Architectural Digest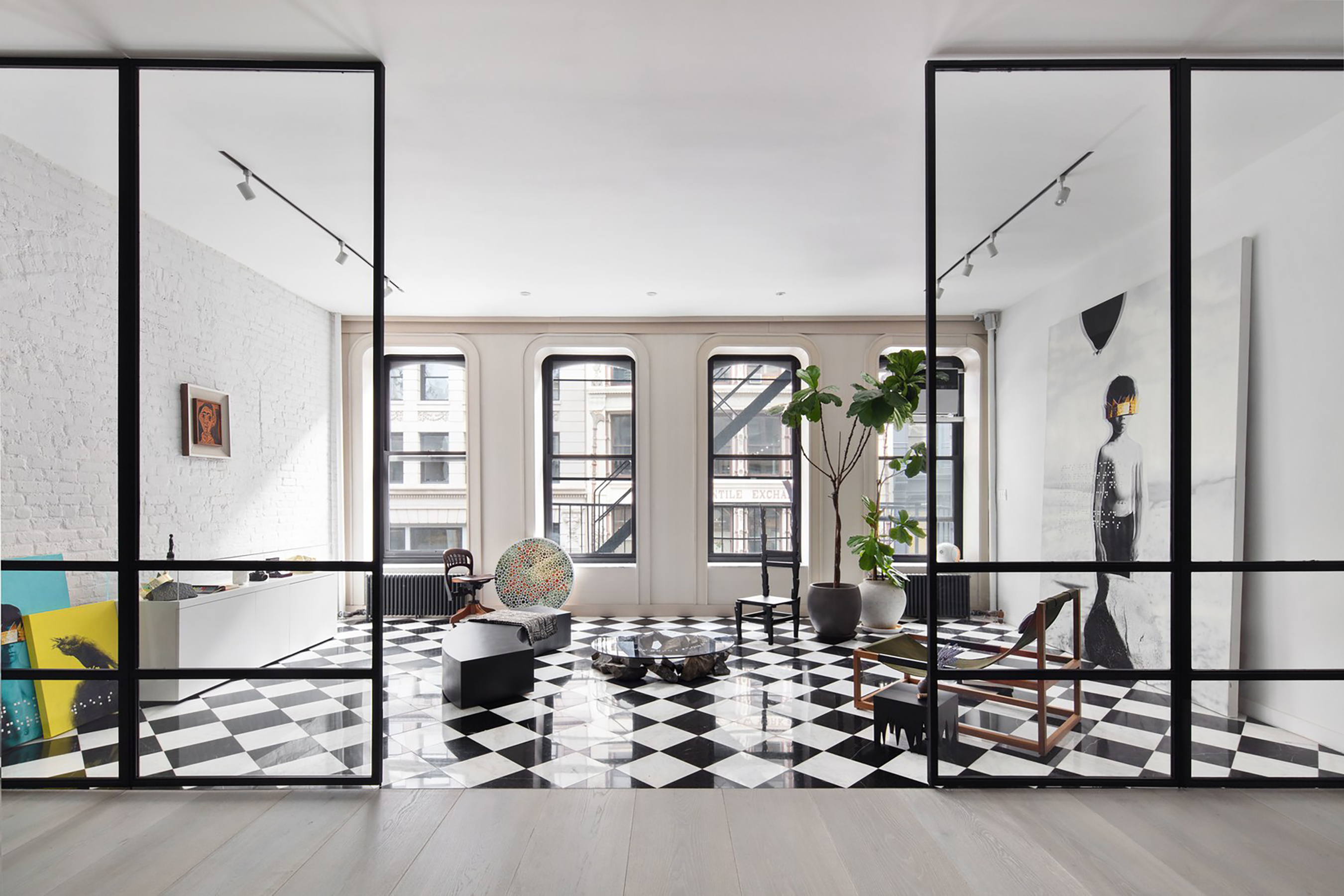 ---
AT
HOME WITH RIHANNA'S FAVORITE
CONTEMPORARY ARTIST
Roy Nachum's New York apartment and studio serve as a blank canvas for his experimental art
---
Roy Nachum's brain is always buzzing—at once both the raison d'être and an occupational hazard of his profession. "Everything can become a work of art," says the Israeli-born conceptual artist, who is perhaps best known for creating the cover art for Rihanna's 2015 album Anti. So it was when it came to the 3,000-square-foot home he shares with his wife, Maia, and their son in downtown New York City, a 19th-century building in trendy NoLIta that hadn't been touched since the 1970s, and a studio down the street.

"It was exactly what we had been searching for," says Maia of the raw space, which once served as a multistory stable and commercial factory before it became lofts. "It was rough and undeveloped, but we immediately saw its potential—high ceilings and big windows with light coming in from both sides. Roy sought out a blank canvas."

No strangers to large-scale architectural projects—the couple oversees the development of commercial properties like the L.A. nightclub 1Oak and Southern Hospitality, Justin Timberlake's restaurant in New York, through their multidisciplinary design firm the Mercer Project—they embarked on a gut renovation of the building, demolishing walls and reconstructing rooms that are "seamlessly connected, creating a feeling of infinite movement," Maia says.

Once the new layout was established, the Nachums juxtaposed light and dark, rough-hewn and sleek elements for the kind of visceral textural contrast often found in Roy's work. "We wanted people to experience the materials and their application," Roy says.
"You see it on the walls in how the cement is applied, in the 16-inch–wide wood floor planks, and in the glass-and-steel arched doors with linen curtains." In the kitchen, lustrous white cabinetry offsets concrete accents and a marble-topped shou sugi ban island, while exposed brick walls uncovered during the demolition in the living room play off polished Italian marble floors, a nod to time the couple spent in the country between shows in Japan and New York. "We found a way to reference the effects of experiences, memories, and cultural inspirations that we've encountered," says Roy.
The couple took a minimalist approach to the interiors, opting for a monochromatic palette and singular pieces—many of which were designed by Mercer Project artists—with sculptural forms. Stark white walls provide a clean backdrop for artwork by Wayde Guyton, Picasso, Christo, and Paolo Pelosini, as well as a rotating collection of Roy's pieces and items picked up during their travels. The gold crowns referenced on Rihanna's album also make appearances throughout the house, in painting and sculpture. "Our home is very symbolic of our style," says Maia. "To do what you love and to do it for yourself is quite special." In their New York City apartment and nearby studio, Roy Nachum and wife Maia Nachum created a blank canvas for the conceptual artist's acclaimed work. The couple sourced nearly all of the furniture in the living room from Mercer Project, including the Reza lounge chairs, Invisible Table, and mint green Legno chair that anchor a living room seating area. Nachum's White Fire Paintings hang just beyond.
By
Jennifer Fernandez